In the spirit of Black Friday, we are thrilled to offer you exclusive discounts on our subscription plans. You can enjoy significant savings until November 30th:
Monthly Subscription: $6.99/mo (30% off from $9.99/mo)
Annual Subscription: $53.99/yr (40% off from $89.99/yr)
To take advantage of these incredible deals, simply use the following promo codes during the checkout process:
For the Monthly Subscription: Use promo code BLACKFRIDAY30
For the Annual Subscription: Use promo code BLACKFRIDAY40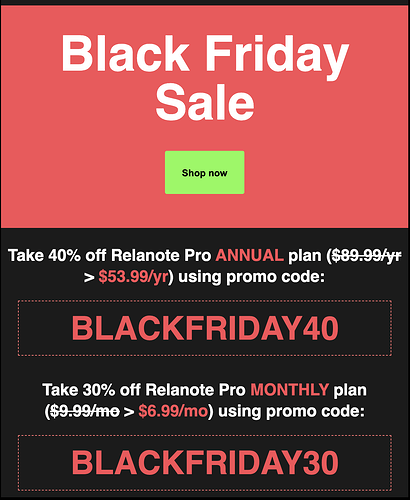 For existing Relanote subscribers, if you decide to seize this opportunity and switch to our Black Friday offer, we're happy to assist you in canceling your existing subscription and processing a pro-rated refund for those on our annual plan, and a refund of the last monthly payment for those on the monthly plan. Please email support @ relanote . com and let us know if you would like to proceed with this change.
Thank you for choosing Relanote. We appreciate your continued support.
Ameet Arurkar
Founder